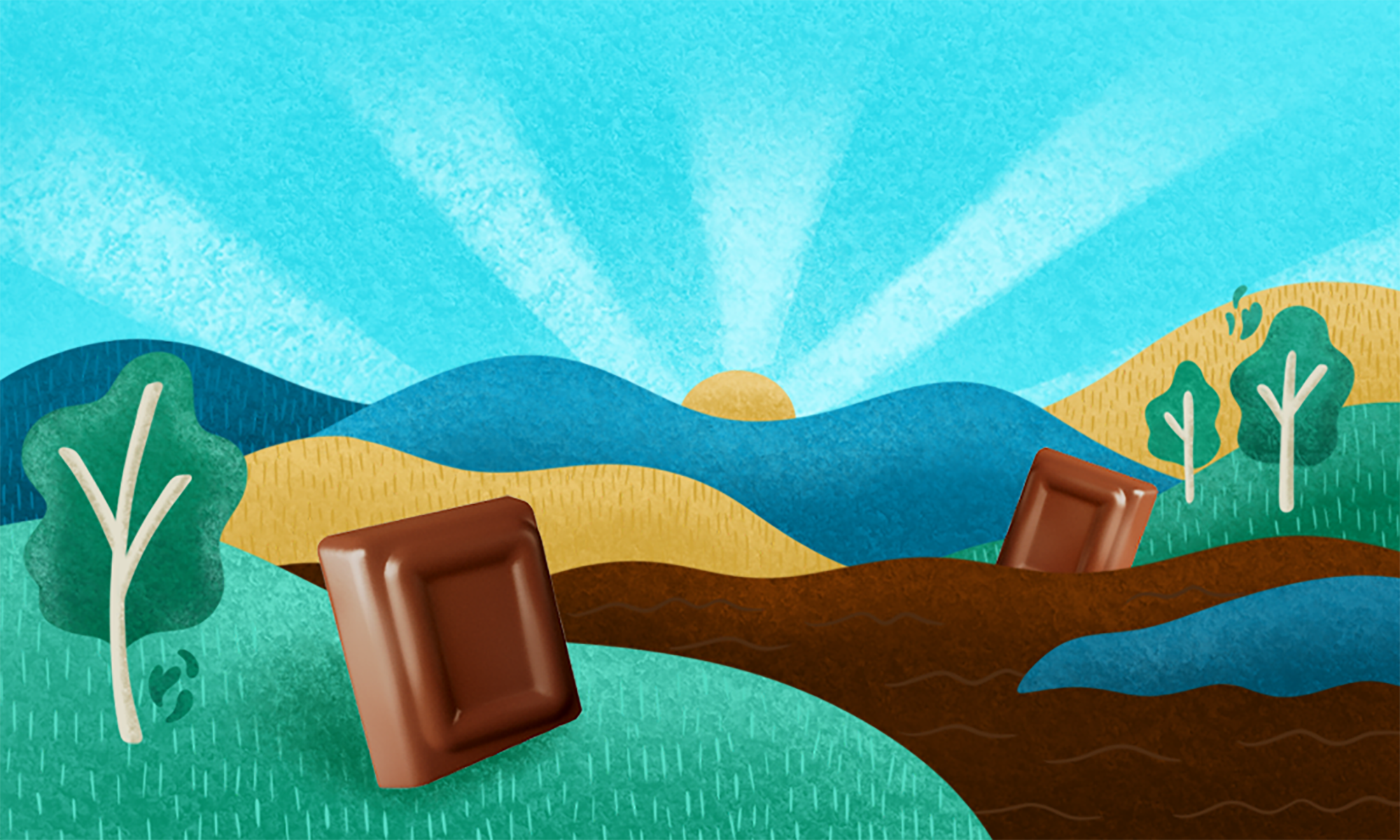 WELCOME TO A WORLD WHERE YOUR LOVE OF EARTH MEETS THE JOY OF CHOCOLATE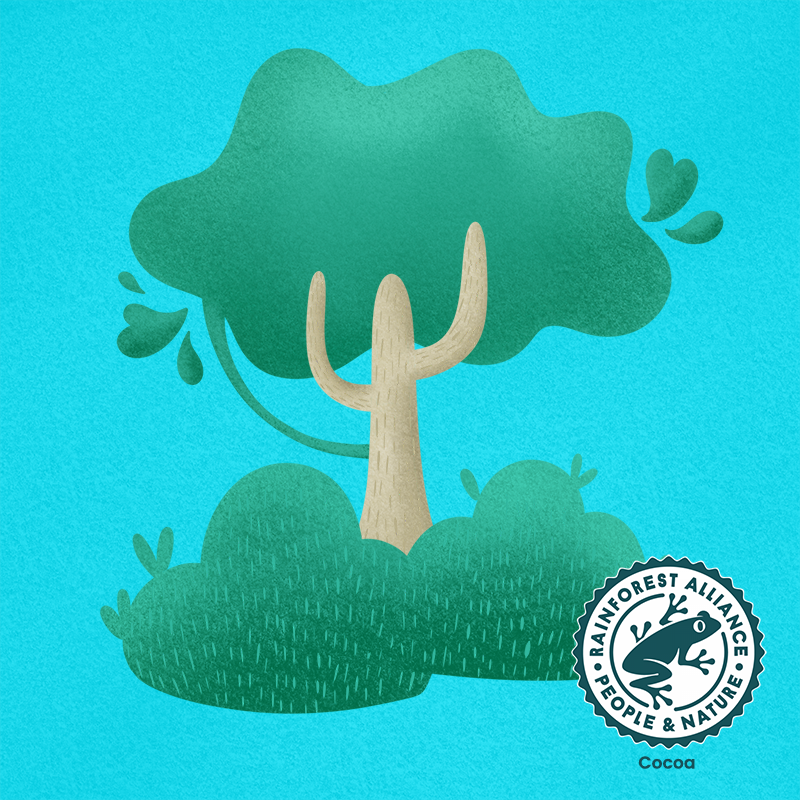 We use fewer resources by cutting down on the amount of cocoa needed in our chocolate, and purchase a volume of Rainforest Alliance Certified (Find out more at ra.org) cocoa equivalent to the volume used in this product.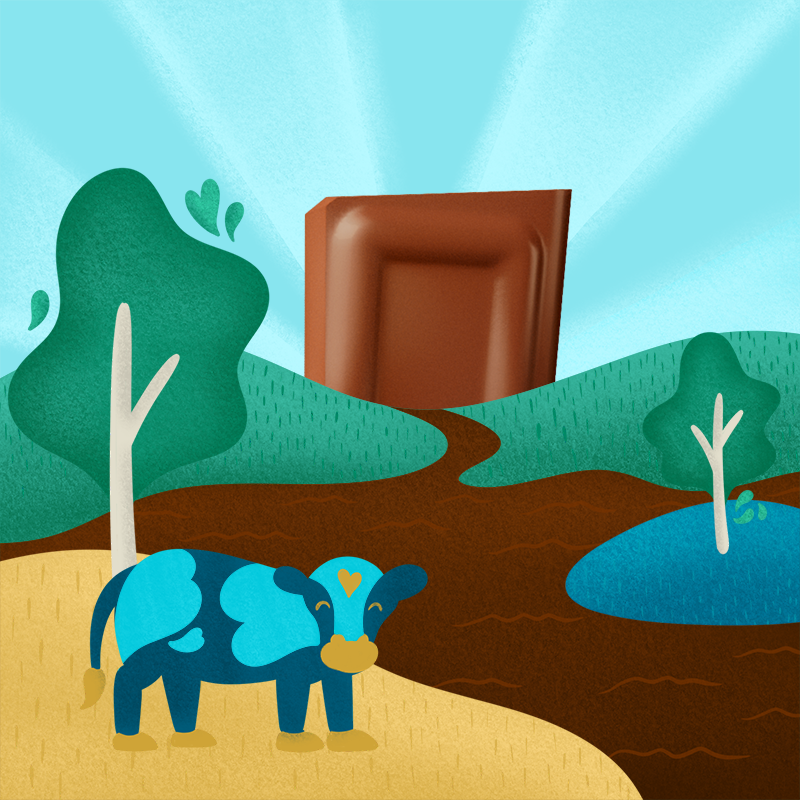 The milk protein from our
partners at Perfect Day
produces up to 97% less
carbon emissions than
traditional milk production,
leaving a significantly
smaller carbon footprint.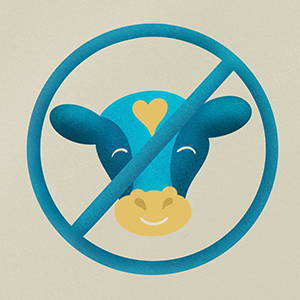 Animal Free & Lactose Free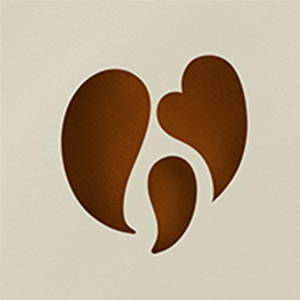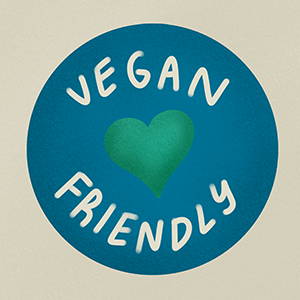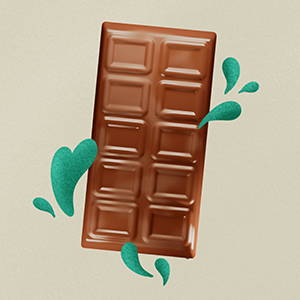 FAQs
Q: What does the brand name CO2COA mean?

The name CO2COA is a thoughtful and playful way to pay homage to Rainforest Alliance Certified cocoa, and reduction of greenhouse gas emissions (CO2) in product and packaging sourcing. CO2COA -- the marrige of CO2 reduction and COCOA.

Q: How is CO2COA chocolate animal free?
Animal-free chocolate means just that: chocolate produced without any animal involvement (like in dairy!). We maintain all the careful crafting art from cocoa to silky smooth chocolate, but swapped the milk with animal free dairy protein from Perfect Day. The Perfect Day animal free dairy is created using a fermentation approach that cultivates microflora –similar to the process that makes beer fizzy, yogurt thicken, and bread rise.
Q: Can lactose intolerante people eat CO2COA?
Yes, it's lactose free.
Q: Is the chocolate vegan?
It's vegan friendly, as it doesn't contain any ingredients from animals. However it's not suitable for people with milk allergen.
Q: Can people with milk allergies enjoy CO2COA?
No, CO2COA contains milk allergens.
Q: Why do you say it's designed with sustainability in mind?
We use animal free dairy which releases less greenhouse gas emissions. We purchase a volume of Rainforest Alliance Certified cocoa equivalent to the volume used in this product. (Find out more at ra.org) We wrap every chocolate with 83% paper-based packaging. From product to packaging, every step of the journey has been taken with sustainability in mind.
Q: Where can I purchase CO2COA?
Currently, you can only purchase online via our website. This is a limited run product, so be sure to order before it's all gone!
Q: How are you related to Mars, Inc?

We are a small, passionate team who love chocolate and love the planet within Mars Inc. We work like an internal startup group - supported by Mars, but independently innovate to create a future we believe in. We pioneer new food technology in line with Mars' heritage of chocolate crafting, because we know that better moments make the world smile, one piece at a time.